The Morning Routines of 8 Famous Entrepreneurs
Entrepreneurs have to keep their energy and creativity up or they'll flame and burn out, and their businesses will suffer. That's why I love studying the routines of entrepreneurs to see what's essential. And one of the things I see again and again is that their morning routines are things any of us could do (well, maybe except swimming around the island we own).
Can you picture yourself in any of these routines?
Mark Zuckerberg, creator of Facebook: wakes up at 8am; wears the same t-shirt every day so that he doesn't use up energy deciding what to wear.
Richard Branson, founder of the Virgin Group: wakes up when the sun shines into his bedroom; exercises with a swim around his island (yes…his island), kite surfing, or tennis; eats breakfast.
Arianna Huffington, founder of The Huffington Post: after a full night's sleep, she meditates for 30 minutes.
Jack Dorsey, cofounder of Twitter and Square: wakes up at 5:30am, meditates, and runs six miles.
Ryan Holiday, author and former head of marketing for American Apparel: wakes up at 8am, does one thing (e.g., showering, writing in journal, going for a long run) before checking his email, goes to his office and writes.
Indra Nooyi, CEO of PepsiCo: wakes up at 4am and is in the office by 7am.
John Lee Dumas, founder of Entrepreneur on Fire: wakes up before 6am, drinks water with lemon and salt, goes on a 35-minute walk outside with his iPod, has a green smoothie and tea, does stretches and push ups, journals, and meditates.
Tim Armstrong, CEO of AOL: wakes up at 5am, reads, works out; only starts sending emails at 7am.
What do all these routines have in common? They're simple.
And that's a key to their success. Like you, successful entrepreneurs don't have time for fussy, complicated morning routines. They need something laser-focused and short to start their day off right.
That's why when we were developing our own morning routine — based on our study of hundreds of highly productive, successful people — we made sure it was short, focused, and something anyone could do.
"My mornings have gone from the least productive to the most productive part of my day." -Alyssa V, USA
"My life has been much better streamlined. I am able to kickstart everyday with happiness brought from my morning ritual, and I definitely notice I am super productive in the mornings." -Yoshio Fujimoto, USA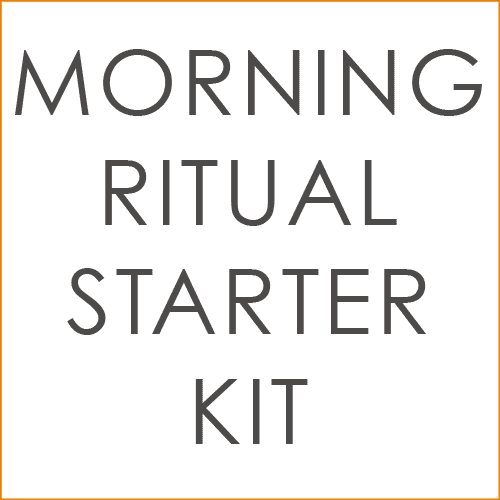 Discover the 1 Lifehack of Highly Successful People
This one lifehack led to the biggest breakthrough of my career. People like Steve Jobs and Oprah have used it to catapult their success, and now you can too.