How to Stick to your Morning Ritual
"Morning rituals are all well and good, but I'm not a single guy in my 20s. I don't have the time."
This is something we hear a lot at Asian Efficiency. And to be honest, it's a good point. I mean, I'm not married, I don't have kids. I admit that maintaining a morning ritual is a lot easier for me than for parents.
But I have helped a lot of parents start and maintain morning rituals, so today I want to share with you the top things that have worked for parents like you.
None of these require buying any special stuff or preparing for a long time. You can implement these tips TOMORROW and feel the results (quiet, peaceful time alone) immediately.
Wake up before your kids. I'll get into this in detail in my next email, but for now, it's enough to say that you absolutely cannot do your morning ritual in the middle of getting the kids ready for the school. This is a must.
Give yourself a bedtime — and stick to it. For a lot of parents, the draw of staying up late is very powerful. The kids are in bed, you finally have some peace and quiet. That makes sense. But if you want to establish a morning routine, you need to get up earlier, and that means going to bed earlier. Plus, are you working toward any of your goals when you stay up late, or are you on Netflix/social media? Late at night, you're usually too tired to do anything else.
Get out of bed as soon as your alarm goes off, then drink a glass of water. Remove the temptation to hit the snooze button five times by getting out of bed right away. Then drink a glass of water and stretch for 60 seconds. Both of these actions will wake you up and make crawling back into bed less tempting.
Keep your morning ritual under an hour long, 90 minutes at the most. Your morning ritual should be long enough to give you enough time to prepare for the day, but if it goes longer than 90 minutes, it starts to lose its purpose. Additionally, you'll start to dread your morning ritual (because it takes so long). Keep it short and aimed at preparing you physically, emotionally, and mentally for the day ahead — and for getting your kids ready for the day.
For even more tips on how to make your morning ritual stick — without having to battle your willpower or wake up hours early — download our six-step morning ritual. It shows you exactly what you need to do to have a morning ritual that guarantees a productive day.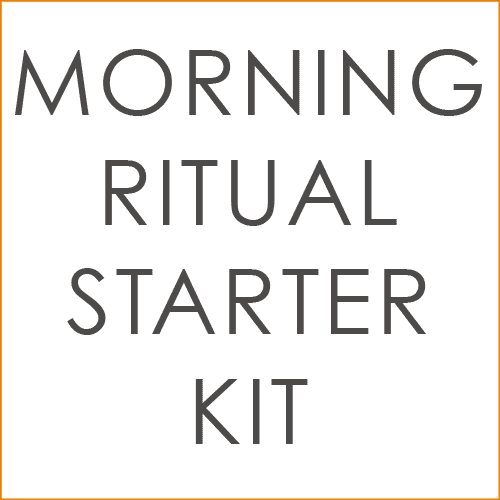 Discover the 1 Lifehack of Highly Successful People
This one lifehack led to the biggest breakthrough of my career. People like Steve Jobs and Oprah have used it to catapult their success, and now you can too.