The Key to a Calm Morning with Kids
You might not like what I'm going to say in this post. The advice I have for you works and has worked for hundreds of our students, but…you probably won't like it.
So before I share it with you, I want to ask you something. What words would you use to describe your weekday mornings right now?
Take 10 seconds and think about it.
Here's what a lot of parents say:
"It's a circus."
"I'm so busy running around I can't catch a breath."
"It's go-go-go from the minute I wake up."
"I LOVE being woken up by little fingers prying my eyelids open. It's so much fun!"
Now, here's how parents describe having alone time in the mornings (that means ALONE — no children or significant other):
"Blissful."
"Energizing."
"Thank God!!"
"Quiet."
"Peaceful."
What's the secret that lets these parents have this rare time alone to fuel up for the day?
Waking up early for their morning rituals.
And that's my advice to you: wake up before your kids do. Even if you're a night owl and even if evenings are the only time you currently have alone.
Here's why: not all hours in the day are created equally. That alone time you have at night is after a full day of work, taking care of kids, cooking, cleaning, doing errands, etc. You're probably not reading a challenging book, exercising, working on your side business idea, or whatever the goals you have are. How could you? You're too exhausted.
Then when you wake up, you're exhausted and grumpy. Maybe a little short with the kids. And definitely rushed for time.
You're not the best parent you can be when you're sacrificing the time you need for yourself at the time of day you need it. And ultimately, that's just as (or more) important for the parents we work with. They want to be their best version of themselves and to lead by example — to show their kids how they want them to behave.
And it's very hard to do that when you haven't had any time to yourself from the second you woke up.
A successful morning ritual sets you up to be productive in the day ahead by making you calm and focused.
So when the chaos of the morning with kids starts, it's easier to deal with. You're more patient and understanding. You're the version of yourself you want your kids to remember when they're grown up.
That's what our readers tell us.
Put your best foot forward in the mornings with our six-step morning ritual, and start having calmer mornings tomorrow.
Here's what one student, Yoshio, had to say about waking up early:
"I am able to kickstart everyday with happiness brought from my morning ritual, and I definitely notice I am super productive in the mornings…I plan on waking up even earlier!"
Click here to get your copy of the Morning Ritual Starter Kit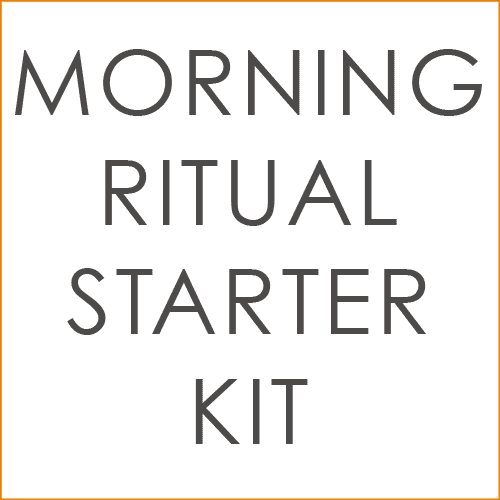 Discover the 1 Lifehack of Highly Successful People
This one lifehack led to the biggest breakthrough of my career. People like Steve Jobs and Oprah have used it to catapult their success, and now you can too.