The Top Productivity Apps on the iPad, 2017 Edition
Every year we curate a list of our most essential Mac apps, and with the iPad becoming the primary computing device in more and more people's lives, it's only natural that we put together a list of essential iPad apps as well.
Here are the Asian Efficiency team's favourite iPad apps split up in different categories. If you haven't checked these apps out, you should.
Productivity

Many users have traditionally struggled with the iPad's lack of a computer-like file system. Dropbox quickly became the "unofficial file system" of the iPad, and we are heavy Dropbox users. We use the Dropbox app to access and upload pictures, documents, and other files.
Apple has come to its senses a little bit and has now opened their iCloud Drive service to allow users to store their own files and folders. The iCloud Drive app lets you access and work with your files stored in iCloud.

Today good password management is absolutely critical. Using easy to guess passwords or (even worse) reusing passwords is an invitation to be hacked. 1Password lets you securely manage your passwords and other sensitive information, and its mobile browser extension makes it easy to enter your secure passwords with a few taps.
You can (if you wish) synchronize your 1Password database between your iPad, iPhone, and Mac or Windows computer so that you can log in safely from anywhere. Here is an example of how Thanh uses 1Password.

Drafts is, as the creators say, "the place where text starts". It's an app that allows you to quickly capture text and then either keep it in the app to refer to later, or take some sort of action with it.
You can send your text to email programs, send it to Evernote, create a task in OmniFocus, create a calendar appointment, make a social media post, tack it to the start or end of a file in Dropbox or iCloud Drive, or do almost anything else with it. When you fire up Drafts it looks like a text editor, but it is really a full-blown automation tool. Here is an article where we describe how to use Drafts for quick capture in a GTD workflow.

Speaking of automation tools, Workflow is currently the king of iOS automation. Workflow allows you to string together and automate iOS apps and features (including native apps) in an intuitive interface, and you can then save those "workflows" to be used later. This results in your iOS device being able to do many things you previously couldn't, and also makes everyday tasks much quicker and easier. If you want to make your iOS device Asian Efficient, here's how to do it.

The stock email app that comes with the iPad is not bad, but it falls down in one key area: in order to be truly productive with your email, you want to capture actionable or reference messages out of your inbox and into a trusted system.
Airmail and Dispatch are two great email apps that have integrations with a slew of task management systems like OmniFocus or Todoist, as well as reference systems like Evernote. Once you try an action-based email client, you'll never want to go back. If you struggle with email, here is our simple guide to managing your email.

TextExpander lets you define small snippets of text and when you type them, the text you type automatically gets replaced by some larger block of text. iOS does have a text replacement feature that works, but it is very basic. TextExpander lets you create very elaborate text shortcuts that seamlessly synchronize between your iPhone, iPad, and your Mac.
The one downside of TextExpander on iOS is that due to security restrictions, your snippets can't work in the background like they do on the Mac. To get around this, Smile has created a TextExpander custom keyboard that you can use, though to be honest I mostly use it with the growing number of apps that have built-in TextExpander integration. If you want to learn more about TextExpander, we've created a comprehensive video tutorial.

Fantastical is an easy-to-use, elegant calendar app with one of the most powerful natural language parsers around. You can quickly add events to your calendar, and you can customize the dashboard exactly how you like it. Here are 5 Tips to Master Your Calendar, and most importantly you'll want to learn how to use a calendar and task manager together.

Do you ever find yourself wishing you had a second monitor when you are on the go? Laptop screen space is at a premium, especially when you are getting older and your eyes aren't what they used to be (or so I hear…).
Thankfully, there is an amazingly handy app called Duet that will turn your iPad into a second monitor. Just install the software on your Mac or Windows PC, download the Duet app to your iPad, and plug your iPad in to your computer. Boom — your iPad is now a second screen. If you find yourself working from cafes a lot, here are some of our strategies to be productive.

Pixelmator is a surprisingly fully-featured image editor built for the iPad. It supports layers and has all sorts of tools for image enhancement and editing, painting, and graphic design. It can even open and save Photoshop PSD files, and has full Apple Pencil support. A great iOS image editor.
Communication

Tweetbot is an excellent, attractive, and full-featured Twitter client. It has great support for multiple accounts and lists, and also has powerful mute filters to block out the noise and show you only what you want to see. When people in your timeline are complaining about the latest changes to the official Twitter app, you can smile sympathetically and keep on scrolling.

Being a distributed company, at Asian Efficiency we have voice and/or video calls daily. Skype is usually our tool of choice, but sometimes Zoom works better. It is good to have both in your arsenal. With collaboration tools like Slack and HipChat adding calls, it will be interesting to see if we still use Skype and Zoom this time next year. Stay tuned.
Reading

RSS isn't as popular as it once was, but many of us at AE still use it to stay on top of things. Reeder is an oldie but a goodie RSS reading app.

We aren't anti-paper books, but it's hard to beat the Kindle for being able to carry around stacks and stacks of books on one device. If you are in the Amazon ecosystem (and we definitely are), Kindle books are awesome. If you don't have an actual Kindle device, the iPad app is the next best thing. Reading, highlighting and taking notes is a breeze on the Kindle app.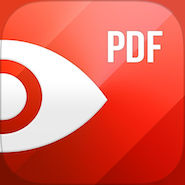 Apple's iBooks does a pretty good job of displaying PDFs, but if you want to actually manipulate and mark up PDF documents, you'll want to up your game. PDF Expert and GoodReader connect to a number of cloud services and servers, and let you annotate, highlight, insert handwriting, stamp, sign, and merge and edit PDFs. GoodReader in particular is like the swiss army knife of iPad file apps.

Staying focused means avoiding distractions, but what do you do when you are in the middle of something and you come across an article you really want to read? Or what if you come across something interesting, but you aren't in the time or place that you can read it? The answer is a read-it-later service. Instapaper and Pocket let you clip an article or blog post to read later, and (when possible) it strips out all the extraneous information on the page so that when you go to the app to read it, it's displayed in a clear easy-to-read format. Here is a primer on how to use Instapaper the Asian Efficient way.

At Asian Efficiency we love to read, and not just books. Zinio is a service that allows you to subscribe to magazines in digital format that you read through the app. So ditch your print magazines and go paperless. Here is how Thanh uses Zinio. Bonus tip: Check with your library to see if they have a Zinio for Libraries membership. Many libraries do, and if so you can read magazines for free. All you need is your library card.
Writing

To say that we at AE think journaling is important is a bit of an understatement. Many people choose to journal on paper, but if you want to use a digital tool, Day One is the best. You can synchronize your journal between the Mac and iOS, and it is just a beautiful app. We did a podcast on journaling, and here is the start of our popular journaling challenge.

There are many, many (did I mention many?) writing apps for iOS. Ulysses is a powerful text editor that gets out of your way. It has markup, images, footnotes, comments, and an editor that makes writing a pleasure. It can export to almost any format you need. Seamless sync with the Mac version makes it even better. Scrivener on Mac and Windows is the most highly-regarded writing and organizers, and is prized by authors all over the world. Finally there is an iPad version so that you an do your writing from anywhere.

Many of us at Asian Efficiency capture and reference text files. nvALT is their home on the Mac, but what about iOS? 1Writer and Editorial are full Markdown-supporting text editors in their own right, and have a lot of great editing and automation features (especially Editorial). Some of us use 1Writer, some of us use Editorial.
Entertainment

It's hard to talk about entertainment on the iPad without bringing up Netflix. Movies, TV shows, and original content, and a good iPad app. What's not to like?

Years ago it would have been unthinkable to pay a subscription for music instead of buying it, but times have changed. Some of us use Spotify, some Apple Music, but either way these apps turn your iPad into a modern boombox with all songs available to you with only a couple touches.

If you have a media collection at home, Plex is amazing. You can turn a computer or NAS drive into a media server, and use the free Plex app to stream your media to it. Plex is my constant making lunch/washing dishes companion.
Office

We love mind mapping, and we especially love mind mapping on the iPad. MindNode is great and has a beautiful user interface. There is iCloud sync between Mac and iOS, so you can start on one platform and then pick it up or reference it on another. If you're new to mind maps, here is our mind map reference page.

Paired with a keyboard, your iPad can be a surprisingly functional word processor. If you need to create, read, or edit documents, these are the apps to use. Which one you choose depends on which ecosystem you work in.

Spreadsheets on an iPad? Not only is it possible, but it can be extremely handy. If you use Office 365, Excel will be for you. Otherwise, use Numbers or Google Sheets depending if you're an iCloud or Google Drive person.

Presentation apps are getting so good on the iPad that many people are presenting straight from their tablet – no more computer involved. You know the deal by now – use the app that matches your preferred platform.
Task management

OmniFocus is still the Asian Efficiency team's favorite task management app after all this time. The iPad app is great for capture and review. It's no secret that we love Omnifocus. Thus it's no surprise that we use its iPad app. It's simply the best task manager out there. Here is our big OmniFocus resource page.
Travel

Kayak and Hipmunk are two of the better websites out there for finding flights and hotels. They also have nice iPad apps that let you view and book your travel.

TripAdvisor is a must for planning your travel. This app allows you to easily find the best places to go to in a city. If you don't know where to eat or stay in a new city, fire up this app and you'll have it sorted out within minutes.
What did we miss?
Is there an iPad app that you think should have made our list?
Let us know what your essential iPad apps are in the comments.
If you liked the list, please share it with your family and friends!
Discover the 1 Lifehack of Highly Successful People
This one lifehack led to the biggest breakthrough of my career. People like Steve Jobs and Oprah have used it to catapult their success, and now you can too.