Essential iPhone Apps by Asian Efficiency
We love the iPhone and its many apps that are available. We have shared our favorite Mac and iPad apps before and now we are going to share our favorite iPhone apps. We have collected 75+ apps and we can't guarantee you might be a couple of dollars poorer after reading this post!
Productivity
Omnifocus
If you've been reading Asian Efficiency for a while you know it's not secret we love Omnifocus. It's simply the best task manager out there.
Asana
Asana is a new task manager for teams founded by one of Facebook's co-founders. It's completely web-based and very easy to use (we use it ourselves to manage Asian Efficiency). The iPhone app makes managing projects very easy.
Evernote
The cloud syncing feature of Evernote is what we love the most about it. You can access your notes from anywhere and its iPhone interface is nice and clean.
Turn your iPhone into a digital scanner with Scanner Pro by Readdle. No longer do you have to carry around one of those portable scanners – just use your iPhone and this app.
TextExpander
We've written before about the benefits of using text expansion software. TextExpander is our favorite software and since it has a Dropbox sync feature it's a no brainer to use this app.
1Password
Everyone must have a password manager. 1Password is simply the best and it is available on all major platforms. If you setup the sync feature with Dropbox you can carry your password anywhere with you.
Fiverr Alerts
Do you have $5 to spare? You'll be amazed what people are willing to do for five dollars and Fiverr is THE market place for buying services for $5. If you manage a lot of transactions on Fiverr it's wortwhile using Fiverr Alerts to keep track of everything.
WordPress
Managing WordPress blogs in Safari can be quite challenging on your iPhone. Luckily the official WordPress app makes this a lot more convenient.
Sleep Cycle
If your alarm goes off while you are in deep sleep – you will wake up groggy and tired. Sleep Cycle will avoid this by monitoring your movements and it will predict when the best time is to wake you up. Before you go to sleep, set a time when it is the latest you want to wake up, i.e. 8am, and it will wake you up in a 30 minute timeframe leading up to 8am. I've been using this for a couple weeks now and I can testify it works.
iRdesktop
For all you techies out there – with iRdesktop you can manage remote Windows servers. Now you have no more excuse to wait till you get home to fix your server(s) – just do it on your iPhone and over 3G!
Pages/Numbers/Keynote
The Apple office suite. Do we really need to say more?
Week Calendar
While the default iOS calendar app is good – Week Calendar is just a little better. It has more features and you can customize it to your liking. If you're looking for a good calendar replacement – look no further.
Mindjet
Our favorite mindmap software is Mindjet Mindmanager and they also have an app that allows you to manipulate your mindmaps. Mindnode is another alternative.
Streaks
The key to building new habits is to do them every single day till it sticks up to the point where you do them on autopilot. A great way to motivate you is by crossing off each day you've exercised your habit. By building a chain you will motivate yourself to keep going and to not break the chain. Streaks helps you record these…streaks.
Utilities
Find my iPhone
In case your iPhone ever gets stolen or you simply lost it – Find My iPhone can help you locate your phone. It will show on a map where your iPhone is located.
WhatTheFont
Have you ever seen a font and you wish you could find out what it was? WhatTheFont solves this problem. Just take a picture and let the app determine what the font is.
Finance
Ixpenseit
The iPhone is great for tracking your spending. One of the challenges of tracking your finances is recording expenses but with the iPhone in your pocket it's easy. Ixpenseit is our favorite app for this purpose.
Jumsoft Money
Jumsoft's Money app is the iOS version of their desktop program. It's a full-fledge money manager – if you're looking for something more than just tracking your expenses you should look into this app.
PayPal
We have a love and hate relationship with PayPal but their service is widely accepted and useful for many things. Manage your PayPal account with their official app (and hope your account didn't get blocked – especially if you're traveling).
XE Currency
If you deal with a lot of different currencies, the XE app will accurately show what the current exchange rates are.
(Your banking app)
Most banks have their own official app. We highly recommend you get them to manage your banking from your phone.
Messaging
Whatsapp
This is our favorite messaging app – we even think it's better than texting people. The biggest benefit is that you can have group chats. In fact, we even have a mastermind set up through Whatsapp where we share (almost) daily our insights, tips and pieces of advice.
Skype
VOIP calling through the iPhone is very easy with Skype. Since it's the most popular platform you have to look no further.
Social
Facebook
Do we need to say more?
Tweetbot
There are a lot of Twitter apps out there and we have tried a lot of them. Aaron finds the official Twitter app the best while I find Tweetbot the best.
Google+
If you're on Google+ you're limited in options – there is currently only one app that supports that social network and it is the official one. Nonetheless, it's a good app.
Photography
Camera+
The Camera+ app is, like the name indicates, a better version of the default camera app (except for the fact it doesn't record videos). You can shoot more pictures per minute and you can also edit them within the app. Not to mention it has a lot more settings you can play around with.
Camera Plus Pro
Camera Plus Pro is very similar to Camera+ but with a a couple different features and you can record videos with this app.
Instagram
This social platform is becoming very popular and after using it you can see why. It's really easy to apply effects to your pictures and to share them on multiple social platforms (Facebook and Twitter).
Hipstamatic
Bring back the antique cameras! Hipstamatic allows you to shoot square pictures and run them through a lot of filters. If you want to make your pictures look retro – this is your app.
Photosynth
To create panorama pictures you should consider Photosynth. You'll have to play around with it to get the hang of it but once you do it's quite fun to create panoramic views.
Wordfoto
Wordfoto is a fun app to play around with. You can have a slogan and your chosen picture crafted into a piece of artwork.
Color Splash
Have you ever seen those black and white pictures where one color wasn't black or white? Color Splash allows you to easily do this. It's a simple app to use and you can give your pictures a nice dramatic effect.
Big Lens
The iPhone camera doesn't quite match an SLR camera but your iPhone pictures can definitely look like they were short by an SLR camera. With Big Lens you can adjust the focus and filters of your photographs so they look like they were taken on an SLR camera.
Snapseed
Snapseed is a full fledge photo editor and it's really easy to use. For any post-processing to fine tune your picture this should be your go-to app.
iDarkroom
If you're looking for an app that has a lot of filters to play with, iDarkroom is a great app for that.
Music
Shazam
Hear a song but you can't recognize it? Instead trying to memorize the lyrics and Googling them, fire up Shazam and it will tell you which song it is.
Pandora Radio
Pandora might be a one-trick pony but it's a damn good one. This is our favorite way to discover new music.
Spotify
We are a big fan of this music service and it's no wonder we included this app on the list. Spotify is the way to go if you want to be able to access your music from anywhere.
SpotON Radio
Speaking of Spotify, SpotON Radio is like Pandora but for Spotify. You can discover new music based on your most played tracks on Spotify and more.
Instacast
Podcasts are a great source of entertainment and education, and Instacast makes it very easy to manage your podcast subscriptions. The biggest advantage is that you don't need to sync your iPhone with iTunes anymore – just download the podcasts straight to your iPhone via Instacast.
Reading
Reeder
Simply. The. Best. RSS. Reader. Aaron loves Newsrack. Pick your poison.
Quora
Quora is one of the better forums and Q&A platforms out there. Their iPhone app allows you to navigate around their content and more. Just make sure to sign up first on Quora before using this app.
Instapaper
Instapaper is one of the few services that has really been a game changer for us. We love reading and this app allows us to catch up on interesting reading material.
Flipboard
Flipboard allows you to beautifully browse through content. It's really a joy to discover content with this app. We use this in conjuction with our Facebook and Twitter accounts to discover content shared by our friends and people on those social networks.
Kindle
We read a lot of books. Like, a lot. No seriously, we read A LOT. With the Kindle books and service we are able to access our books from anywhere. If there is a pocket time available we are possibly reading on our Kindle app.
GoodReader
Whoever said that PDF manipulation is not possible on an iPhone obviously has never used GoodReader before. It comes in really handy when you're on the road and when you don't have access to your stationary computer.
BBC News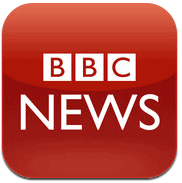 The BBC is one of our favorite news stations (even though we barely consume news) and with their app you can also watch a ton of videos (makes it easy to catch up on news).
(Your Local)
Most local news stations have their own iPhone app. If you want to stay up-to-date on what is happening in your own area – definitely see if your local station has an app.
Games
Doodle Jump
Before you download this game – you've been warned. It's insanely addictive. That's what the makers say on their official App store page and it's true…
Jetpack Joyride
Barry, the hero of this game, can fly with his jetpack and make you lose track of time.
Zombieville USA 2
If you like killing zombies with guns – this is your game.
Plants versus Zombies
This game has won many awards and once you play you can see why. It's fun and addictive. Two words you want in a game but hate at the same time because it can kill your productivity.
Fruit Ninja
We're sick of Angry Birds but not yet of Fruit Ninja. With its multiplayer option it's even more fun.
Osmos
This is an interesting and one-of-a-kind game. It's something you have to experience yourself (it's difficult to explain what the game really is).
Tiny Wings
It's sort of like Angry Birds but different. Intrigued yet? Good. Check it out!
Food
Urbanspoon
If you eat out once a while you might run into the problem that you can't decide what you want to have for dinner. Have no fear, Urbanspoon is here! With this app you can find local restaurants based on the type of food you want to eat. Or you can just shake it and it will give you a random suggestion. Its feature where you can find restaurants nearby is also very cool.
Yelp
For situations when you need to find businesses (restaurants, dry cleaners etc) and their reviews – Yelp has the biggest database of reviews. With its massive collection of community driven reviews you'll be able to find tons of opinions about businesses regardless which type of business it is. USA-only.
Mixology
Are you tired of your Jack and Coke? I definitely am not but I'm also always on the look for a new great drink. Mixology has a collection of drink recipes that you can go through.
Education
Word a day
If you want to expand your vocabulary this is a great app to have. Each day you get alerted of a new word you can learn and this makes it very easy to pick up new words. Each word will also have an image explaining the meaning and you can even hear how to pronounce it.
Brain Trainer
As you age your brain's capacity starts to diminish. In order to combat this you need to exercise your brain on a regular basis and this app will help you in that aspect. With puzzles, exercises and challenging games this is a great way to keep your brain sharp.
Slango
If you frequently find yourself on urbandictionary.com – you need to get Slango. It's not quite the same dataset but you still find the same slang words and their definitions. The next time you hear rappers talk about their "whips" and "swag", you'll know how to decode that.
TED
We love TED talks – they are a great way to expand your horizons by watching other people share their insightful thoughts.
Video
Netflix
With your favorite TV shows and movies on demand – what is not to love about this service. With this app you're only a couple touches away of watching your favorite shows when you're not behind your computer or iPad.
8mm
With 8mm you can shoot vintage videos – it's easy, fun and quick.
IMDB
The online resource for anything about TV shows, films and movies. The app makes browsing around much easier than on the IMDB website.
iMovie
Nowadays it's a breeze to do video editing on your iPhone and iMovie is one the best apps for that.
Travel
Tripit
For our frequent travels we rely on TripIt to have an organized overview of our international adventures and trips.
FlightTrack Pro
FlightTrack Pro works nicely with your calendar and the TripIt service so you have very detailed information about your flights.
Google Translate
The app's name already reveals what it does but we cannot stress enough how useful it is – especially when you're in a foreign country where you don't speak the language.
Onavo
If you're abroad and want to have a data connection there are multiple options. You can use data roaming by your current service provider or you buy a prepaid data connection plan at your foreign destination. Both can be quite expensive if you use your phone a lot. Onavo can help you save megabytes of data. It compresses the data on your data connection, so you'll save money.
Gateguru
Airport gates can be quite boring. If you don't have access to airport lounges, this app will make your stay more fun by showing you what you can do at your gate.
TripAdvisor
If you need to find the best hotel, restaurant or place to visit in a city – TripAdvisor has a collection of reviews of almost any place. This is a must-have app for frequent travelers.
Weather+
The standard weather app that Apple gives you is not bad – it will suit most people. If you want to step it up a notch then you want to grab Weather+. The graphics are a lot better and you get a lot more information.
Units
How many feet is 4.5 meters? Or how many degrees Celcius is 84 Fahrenheit? If you frequently need to convert metrics you want to download Units. Almost any metric out there can be converted with this app. I wish I had this app when I was in school!
Kayak Pro
If you want to get an idea what airline tickets cost, just fire up Kayak Pro. Kayak is one of the better places to book your airline tickets and in case you need to book tickets you can do it within the app as well.
ATM Hunter
Finding ATMs can sometimes be a challenge. Let ATM Hunter help you with this – just pull up your current location and the app will show you the nearest ATMs. You can also insert addresses or airports to find ATMs.
Free Wi-fi Finder
Need to find a Wifi spot? Get Free Wi-Fi Finder. It can find hotspots based on your current location but it also allows you to download the data for offline use (which we love).
Do you have any apps that you would recommend? Share it in the comments below!
Photo by Cristiano Betta.
Discover the 1 Lifehack of Highly Successful People
This one lifehack led to the biggest breakthrough of my career. People like Steve Jobs and Oprah have used it to catapult their success, and now you can too.