Last week, we shared with you our top 10 favorite tools under $100. This time, we are going to share our top 10 favorite tools OVER $100.
Before you balk at the price of these tools, know that we are sharing this list with you because some members of the Asian Efficiency team personally use these tools–and will vouch for them too. These aren't just random tools that we thought were hip or cool. These are tools that we consider as productivity tools because they help us be more productive and efficient.
There will be no apps on this list since we do that all the time and we will not be sharing our obvious choices (MacBook, iPhone, Bose QC35, etc) since we've discussed those tools several times.
I love my original Kindle Paperwhite (it still works even after 3 years)! Electronic readers, in general, are quite handy and economical since e-books are relatively cheaper than printed books. I use mine a lot when I travel and when I know I will be doing some waiting (clinics, my child's school, government offices).
Brooks recently got the new Kindle Paperwhite because he lost his old one during his home renovation. I have to tell you–the new Kindle Paperwhite is a sight for sore eyes. It now comes in two colors: Black and Twilight Blue. It is also very thin and light.
You can also listen to audiobooks since it now comes with Audible. You can take this tool anywhere, including the pool or beach because it's now waterproof!
Going back to my old Paperwhite—as much as I love it, I think it's time for me to get the new one and give my old one to my kid. Right? Right!
Smart Watches have been around for several years. We have seen it evolve and it is still evolving. However, for a lot of us, we still want to wear a regular watch daily–just the regular analog watch that might have been passed on from one generation to another. But what if we also want to track our fitness, sleep, heart rate, and etc?
That's where the Oura ring comes in. It's less bulky and it's more accurate. If you do not need the notifications from smartwatches and you just need it to track your body, then the Oura Ring is your best bet. Not only does it provide accurate data, you also don't have to worry about charging it every day since a single charge (30-60 mins) can last up to 5 days.
The Away Carry-On Suitcase is lightweight yet very strong. Brooks can personally attest that the wheels are also well-made because it survived the European sidewalks.
This has been an AE team personal favorite for a couple of years now. Before, it was just the carry-on, but they now have a wide array of products that boasts the same level of quality.
Their suitcases come with an ejectable power bank that you can use to charge your phone or tablet on the go. There is also an option without the battery in case you don't need it. But who doesn't need an extra power bank?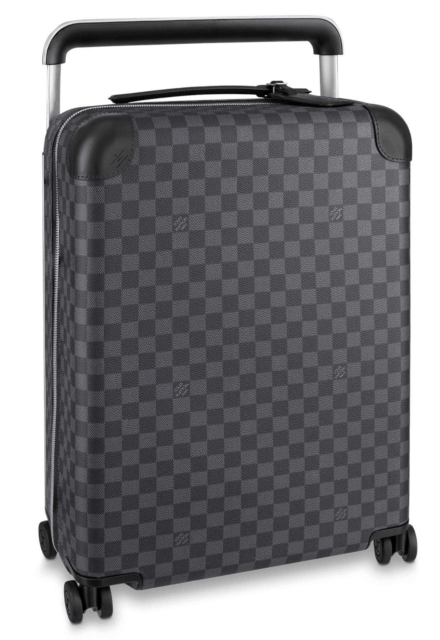 This is Thanh's personal favorite because it's light, spacious, and has a wide-grip handle. He travels several times in a year and has tried and tested the LV Horizon 55 from Asia to Europe to America.
Because of the brand, it makes a powerful statement too especially when you travel for business or if part of your business is to look good–really good.
They claim that if you can only own one pair of pants, then this is it. Brooks agrees with them.
These are casual pants that are comfortable because it's breathable. It's wrinkle-resistant and stain resistant. Do you want to know something cool? It resists water. So if you are out and there's light rain, you don't have to worry about drenched pants. The Outlier Slim Dungarees will stay dry and if it does get wet, it dries really fast.
100% Wool Pants ($250-$600)
Who likes wrinkles on their pants or ironing pants when they travel for business? Definitely not Thanh. Since he travels a lot, he decided to invest in 100% wool pants as recommended by his custom clothier. They are easy to maintain, breathable, and you can wear it most seasons.
This makes packing for travel a whole lot easier since you don't have to think about what you can bring that will not wrinkle easily–or worry about ironing your clothes.
Power banks… Again? Wait, this is not an ordinary power bank. This is a power bank that can charge your laptop, not just your phone or tablet. It's not as big as a car battery, so you don't have to worry about portability. It looks sleek and can fit inside your laptop bag with a lot of room to spare.
Let's face it–we are always on the go. I, personally, always travel with my laptop because of work and business. There are just some tasks that I cannot do on my phone or I find cumbersome to do on the phone. What I don't like about traveling with my laptop is that outlets are sometimes scarce or are far. Some airports do not have laptop tables where you can comfortably set up your laptop, plug it in, and then work. But if you have the Anker PowerCore+, you don't have to worry about it as long as you charged it ahead of time.
Regular health check-ups are good and needed since we want to know if we are healthy or if not and know what we need to do to become better. The WellnessFX Baseline blood test can be an addon to your regular wellness checks since it includes advanced tests on your cholesterol, thyroid, blood sugar, liver, kidney, and even electrolytes.
It also comes with personal recommendations based on the results of your test. How personal? You will have a consultation with a nutritionist to improve your overall health.
This is a test that Thanh does every year to optimize his health. He uses this test to get real data that is actionable based on the analysis of the doctor and recommendations that they also give you.
Home automation is the future. I sound like an ad saying that but it's true. We are continuously looking for ways to automate repetitive actions for convenience, to save time, and even to avoid mistakes.
On our podcast, The Productivity show, we talked about home automation and went into detail about the Lutron Caseta. What's with smart lights anyway? Aside from automating dimming or automatic turning on during sunset, you can set it to randomly turn on and off especially when you are away. When you do that, it would seem that someone is actually inside your house.
This particular brand of smart lights is compatible with Amazon Echo and Apple HomeKit. If you have been thinking about home automation, you can definitely start with the Lutron Caseta Wireless Smart Lighting since it's easy to set up and can be controlled by an app or through remote control.
Thanh is an avid tea drinker and he drinks tea a lot. I mean a lot. When we do our team meet-ups, we always ask for an unlimited supply of tea for the team. Although 80% of it is just for Thanh. Shhhh…
That is why when Jon, one of our Dojo members, recommended the Breville One-Touch Tea Maker, Thanh immediately purchased one. If there is something Thanh can optimize and automate, he will do it because the time saved means time he can use on other important stuff.
So how does this teapot even help Thanh? Well, it has an auto-start function. You can set the timer to start at the same time you wake up. After you're done with your morning rituals, you have a perfectly brewed tea that is kept warm because of its Keep Warm feature.
It's one of those small appliances that are low maintenance and you don't need rocket science to operate because it's pre-programmed to brew black, green, white, herbal, and oolong teas. You can use it to boil water as well and it's very easy to clean.
What do you think of our list? What $100+ tools do you use that helps with your productivity because it just makes your life less complicated or it helps you saves time? Share your tools on the comments below.